Pet Policy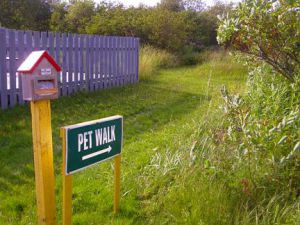 Pets are a part of many of our camping families and are welcome. Animal owners are completely liable for the pet and any damages suffered in case of an attack in a public or private area.
We welcome pets (2 max) in sites and 1 max in designated pet friendly cabins (deposit required at check-in).
• We welcome your pets with dog biscuits and free poop bags.
• Pets must always be on a short leash
• Owner must clean up after pet and deposit in the trash. We provide poop bags at the office.
• Pets are never to be left unattended.
• Pets are not allowed in any of the buildings or Pool area per Board of Health.
• Pets are not allowed in Cabins.
• We reserve the right to deny any pet entry to the park.
• If any pet is not following these rules, creating a disturbance, the owner will be asked to remove the pet from the premises.
• Veterinary Services- Baddeck Veterinary Clinic 902-395-3440
• Grooming and Boarding Services available in Sydney, N.S.